Hosting a weekend get-together your friends will never forget
I have always loved entertaining. The moment Brett and I moved into our house, I imagined filling it with people, making wonderful meals for us all to share, and drinking wine on the couch until late in the night. I couldn't conceive of anything more special than welcoming my closest friends into our home, and this past weekend I finally made that happen.
On June 29th, six of my dearest friends made the long drive to Ottawa. Many of these women are friends from middle and high school but I've known some of them even longer. We're talking 15+ years of friendship here and what a blessing! With each passing year I feel luckier and luckier to have these soul sisters by my side and to have these enduring relationships which strengthen over time. Now that I live in Ottawa, I don't get to see many of them as often as I'd like, but even with the distance between us, I've felt their love and support through some of my most challenging moments.
How do we show appreciation for these angels in our lives? The ones who helped us get over our first breakups, who we laughed with until our sides hurt after being out all night, who give us relationship and career advice and who will be at our weddings. Well, for starters, when we have them over to our houses for a weekend we show them the best damn time we can! Here are some things I recommend:
Bring everyone together:
Let's be honest. Being an adult is busy and complicated. Trying to make plans with your friends can be a lot of "That weekend doesn't work for me, but how about this random Saturday three months from now?" It takes work. When it comes to my friends, there is a big group of us and as we move farther away from our home town, it gets increasingly harder to get us all together. Not everyone could make it last weekend but I was glad to have as many of us together as we did. I recommend making plans far in advance, and I mean up to six months in advance. This way your friends can put it in their calendars, plan time off from work if necessary and make appropriate travel plans.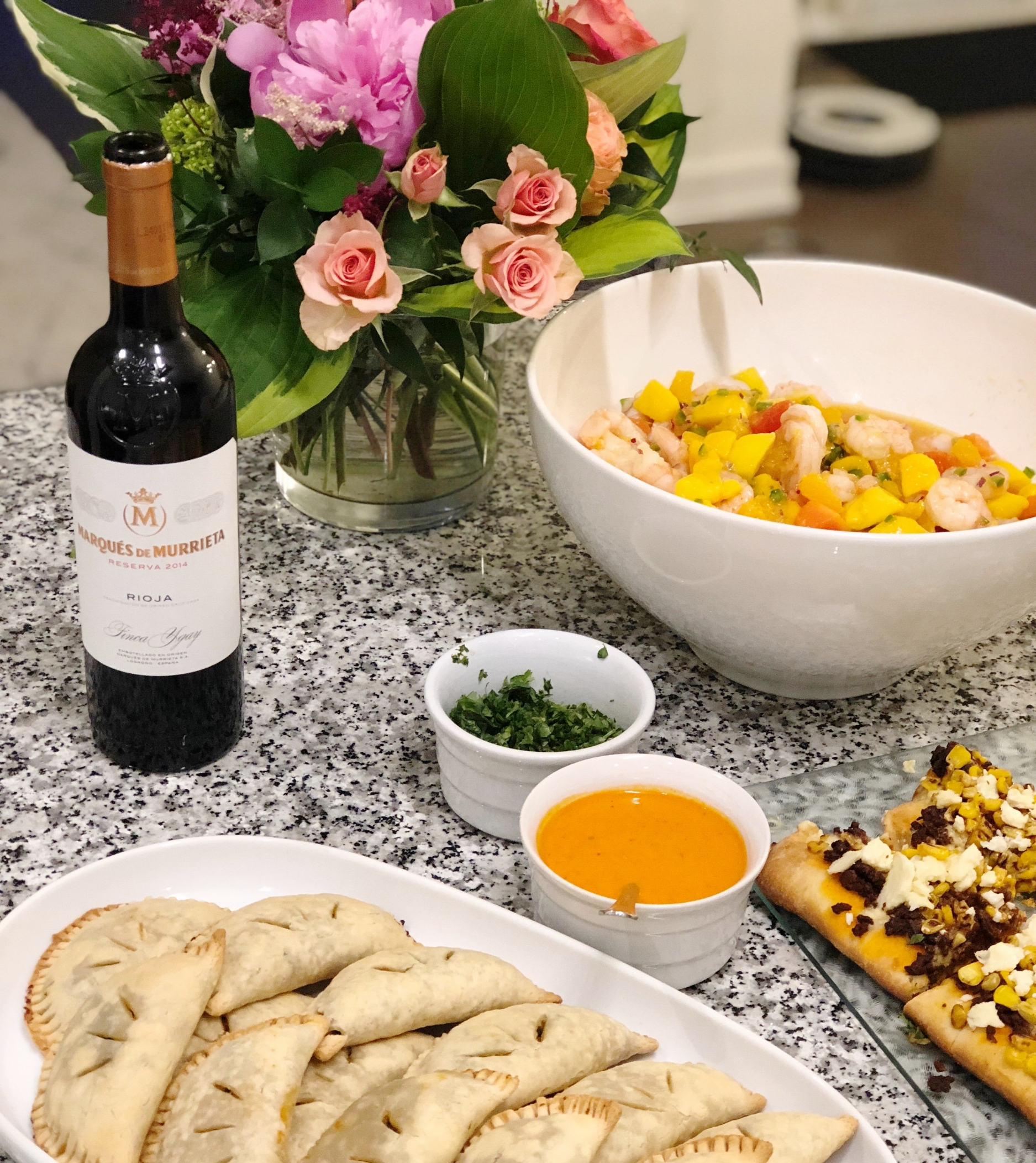 Get things done ahead of time:
The last thing you want when your friends are visiting is to feel stressed or frazzled. Being a proactive host/hostess means getting as much done as you can ahead of time so you can just enjoy your time with your guests when they arrive. Get some meals and snacks prepared, make dinner reservations, plan activities… whatever will pull you away from your guests. In preparation for the weekend, I spent a few days making meals to keep in the fridge and freezer so I always had food on hand for my girls and I didn't have to spend as much time in the kitchen. I think there is an art to this and I hope to get better at it in years to come because I still felt like I could have done more in advance. Thankfully I have very helpful friends who don't mind lending a hand.
But don't over go overboard:
I think being a good host or hostess also requires a bit of flexibility. If you are a Type-A personality like me, fight your desire to plan every second of the visit. The more people you're hosting, the more likely your plans are to get "thrown off". Expecting this will keep you in-flow and make the visit much more enjoyable. Your friends are probably all different: some get up early, some get up late, some like doing lots of activities, while others are happy to sit and chill. Try to have a few options for things to do that everyone will enjoy and allow your guests to decide in the moment. I sent my friends a list of possible activities a few weeks ahead of time and they let me know what appealed to them but we didn't make any firm plans until they got here and that worked out well.
Anticipate needs:
Being a good host or hostess means knowing what your guests will want or need before they want or need it. What I like to do is imagine what my friends have in their own homes that makes them feel comfortable and then try to replicate that experience in mine. Everyone likes to be able to have a cup of coffee when they want it, so leave the filters or pods where everyone can find them (although if your Keurig is like mine, it is unreliable at best anyway). Stock your bathroom with extra toothbrushes and other personal care products, put out a box of snacks for your guests to munch on between meals and keep extra blankets, towels, and pillows somewhere everyone can find them. This also means having enough food and drink on hand. When Brett and I started dating he'd always make fun of me for underestimating how much people eat and drink. Now when he tells me to buy a case of sparkling wine for the weekend, I listen.
Make it special:
By no means is it necessary but I think adding some personal touches is a great way to really wow your friends and make the weekend extra memorable. I think it would be fun to print out a bunch of photos to look through together, or hang as decorations. Theme dinners, wine tastings, and rental karaoke machines also add the "wow" factor. I decided to make little gift bags for my friends with personalized mugs and some other fun goodies. I loved seeing their faces when they opened them and I knew the mugs would be helpful come breakfast time. I made sure the house was full of fresh flowers and that champagne was on ice when they arrived. It's those little things that really make your friends feel special.
Enlist helpers:
As the old adage goes, "Two hands are better than one". If you've got a partner, friend, or roommate who can help with the hosting, get them on board. I am certainly appreciative of Brett for being such an awesome co-host with me this weekend. Having someone to help do the dishes, and tidy up makes things more enjoyable. Thank them dearly for their help, and make sure you're able to return the favour.
Overall, just do your best to be warm and accommodating. Your friends love you and want you to have a good time too. No matter what happens you'll have great memories and hopefully a few laughs. Happy Hosting!